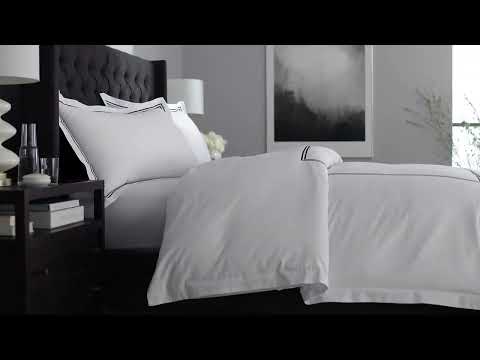 Hotel Luxury® 6-Piece Sheet Set
---
100% SILKCROP™ long staple cotton is luxurious and soft to the skin
Sateen weave is strong, smooth and has a lustrous look
Satin piping detail on the flat sheet and matching pillowcases Wrinkle-resistant finish for noticeably smoother sheets
OEKO-TEX® STANDARD 100 certified: Tested in a third-party lab and verified to be safe from over 350 harmful substances
GRIPTONE™ - professional-grade reinforced corners ensure a snug fit
SoundFit™: Stronger thicker elastic and deep pockets
Premium Quality: Long Staple Cotton, also known as extra-long staple cotton, is renowned for its superior quality and durability. The use of this high-grade cotton ensures that the bed sheets are exceptionally soft, smooth, and long-lasting. They provide a luxurious and indulgent feel, mimicking the experience of sleeping in a high-end hotel.
Comfortable and Breathable: Long Staple Cotton has longer fibers, resulting in finer yarns and a more breathable fabric. These bed sheets allow air to circulate efficiently, preventing heat and moisture buildup. The breathable nature of the fabric helps regulate body temperature, promoting a cool and comfortable sleep environment throughout the night.
Soft and Silky Texture: The long fibers of the cotton produce a luxuriously soft and silky texture. This provides a gentle and smooth feel against the skin, enhancing overall comfort. The sheets' softness adds to the relaxation and tranquility, promoting a restful and undisturbed sleep experience.
Durable and Long-Lasting: Long Staple Cotton is known for its exceptional durability. The longer fibers make the fabric more resistant to tearing, pilling, and general wear and tear. This ensures that the bed sheets maintain their high-quality appearance and feel even after multiple uses and washes, making them a wise long-term investment.
Hypoallergenic Properties: Long Staple Cotton bed sheets are naturally hypoallergenic, making them an excellent choice for individuals with sensitive skin or allergies. The fabric resists dust mites, mold, and other allergens, minimizing the risk of allergic reactions or skin irritations. Additionally, the hypoallergenic properties contribute to a cleaner and healthier sleep environment.
Easy Care and Maintenance: Sleeptone's Hotel Luxury bed sheet set is designed for convenience. The sheets are easy to care for and maintain. They are machine washable and can be tumble dried on low heat. The high-quality fabric resists wrinkling, reducing the need for ironing, and ensuring that the sheets retain their smooth and elegant appearance.
Versatile and Stylish: These bed sheets are available in a range of attractive colors and designs, allowing you to choose the one that complements your bedroom decor. Their timeless and sophisticated appearance adds a touch of elegance to any bedroom setting, creating a cozy and inviting ambiance.
Sleeptone's Hotel Luxury bed sheet set, made from Long Staple Cotton, combines premium quality, comfort, durability, and hypoallergenic properties. With their soft and silky texture, breathable fabric, and easy maintenance, these bed sheets provide a luxurious sleep experience, ensuring you wake up refreshed and rejuvenated each morning.
This item qualifies for free shipping.
SKU: S-HLS-Q-WHT/TPE
Welcome to Sleeptone
Meet your new Hotel Luxury® 6-Piece Sheet Set
What's Included?

2 Pillow Cases
2 Pillow Shams
1 Fitted Sheet
1 Duvet Cover
Queen: Fitted Sheet (60"x80") Pillow Case (20"x30")
King: Fitted Sheet (78"x80") Pillow Case (20"x40")
Machine Wash Gentle, Tumble Dry Low
This product has no reviews yet.
This product has no reviews yet.